Undersea Mosaic Mural
In 2010, this mosaic mural was commissioned for the children's bathroom of a large house.


First Sketch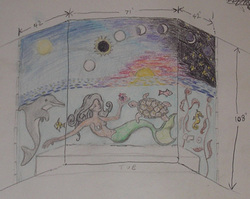 Their amazing desert house house was still under construction. As I sat on the steps sketching this with my feet in the sand, a foot long lizard crawled right over my feet.
---
With a ton of tile & marble laid out, I was ready to go.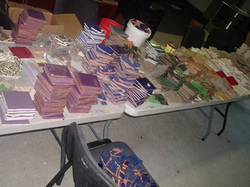 Next, I laid out the design on hardibacker. It was too big to fit in one photo. I cut it into panals for easier handling.

Then I began months of work. Here is a slide show of the progress.
Here are images of the completed panals which I used thinset to attach to the bathroom wall.
Finally, I framed it with a selection of off-white pieces and grouted the whole mural. I used several colores of grout.
After I finished the mural, they asked me to add a backsplash to the sink.
Done!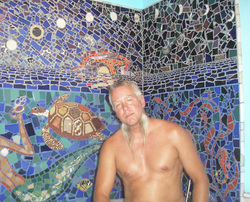 Over a year since I started, I finally finished. It was 103 degrees and I woke-up on their roof as a desert fox ran past.
---