I am a 2015-2016 Artist in Residence with the Cabrillo National Monument.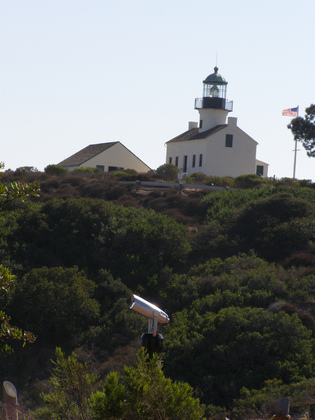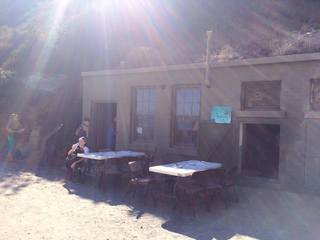 Cabrillo has given me a bunker from World War II to use as a workshop. It is about a mile down a dirt trail and overlooks the ocean. I can hear sea lions, waves and boats. There is no electricity, but lots of sunlight and lots of hikers that come in to visit my art.

I will use this space to develop my idea for a new sort of clock that works over a full year to chart natural cycles, but also other freely forming arts.

---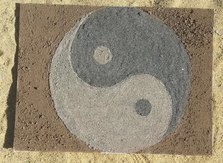 While teaching my earth science lessons on soil formation, I realized how many different colors I have in my collection. I am now working on a series of soil paintings that use different colored soil samples from all over San Diego. The blues & greens, I purchased, rather than found.
---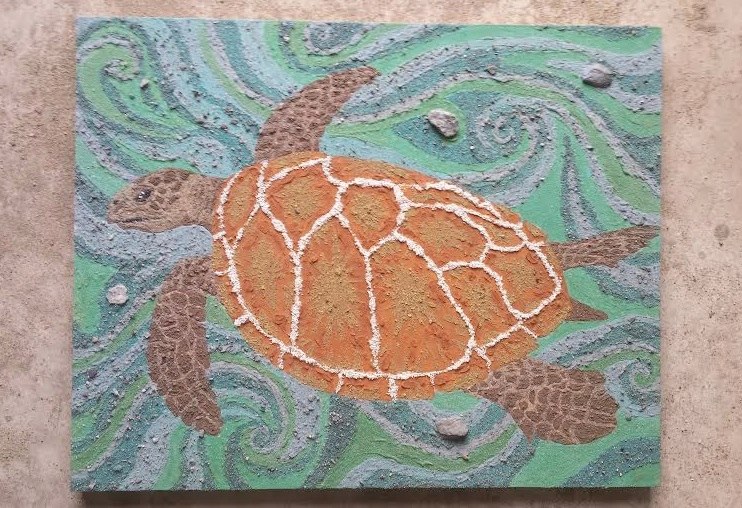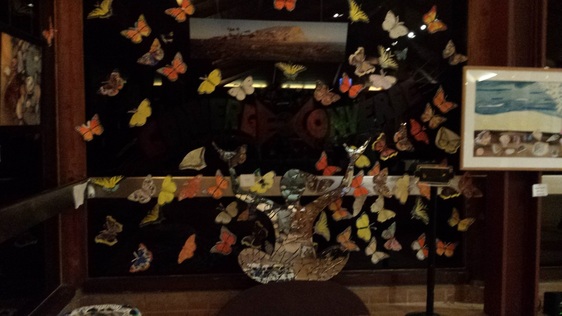 Cabrillo invited me to do a piece for their "Convergence" exhibition.
​I focused on the idea of mankind's role as steward of nature and created an interactive installation called Metamorphosis.
It played metaphorically with the idea that just as a caterpillar transforms into a butterfly, mankind will eventually come to value and protect nature. I created a life sized person from wood, and mosaiced it with broken mirror (again metaphorical). This was installed at a center point of the exhibition along with panels that taught about the six most common species of butterflies at Cabrillo. A work station offered coloring sheets, crayons, scissors & tape with instructions asking people to add their butterfly into the piece.
---
I have done a whole series of bark drawings that use ink on local tree bark as thick natural paper. I draw Cabrillo inspired imagery such as Mermaids, The Kraken & Sea Monsters that I find lurking in the grain of wood. Sometimes, I teach free workshops with the public as they visit my workspace.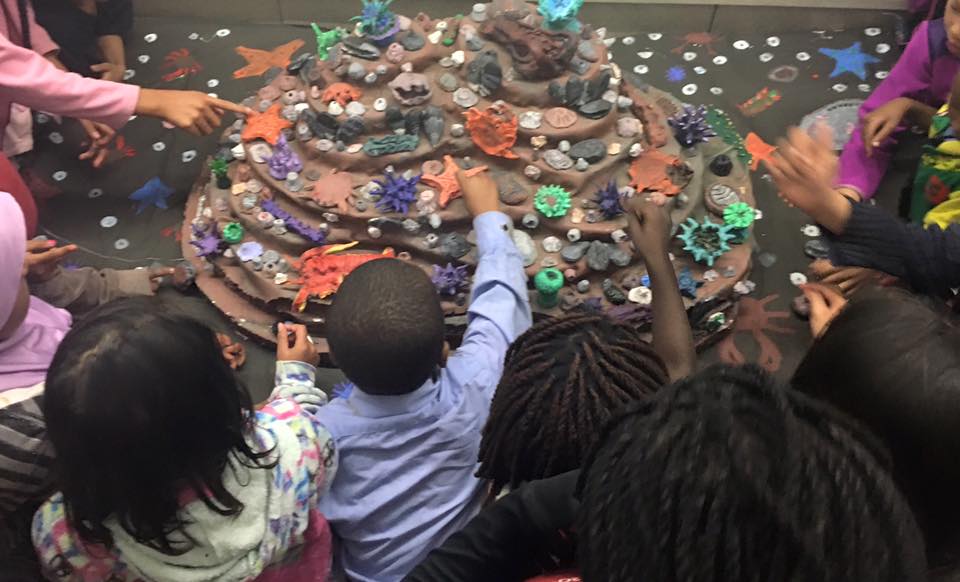 Later, I brought the refugee kids to Cabrillo to experience our amazing ecosystem & make more art about it!
Words can not describe how wonderful this day was. For me, this day was art.
Cold California Current
Acrylic on board 24" x 36"
(nine paintings as one)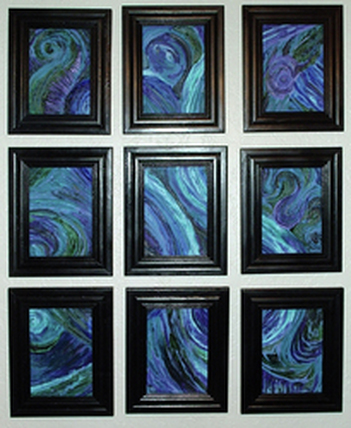 Cabrillo invited me to do something for Whale Watch Weekend. This is their annual event watching the California Grey Whales as they migrate past San Diego. I decided to conduct a workshop teaching the public to paint whales. I found a fantastic staff of my artist friends and we shared our art techniques with an unending stream of people.
Cabrillo asked me to paint a picture that they could use for their BioBlitz event as a T-shirt. I was greatly honored to be given this opportunity. For BioBlitz a small army of biologists descends on Cabrillo to count organisms. However, this happens at national parks all across the US on the same day, effectively producing a snap shot of biodiversity across our entire county. Amazing! And given that this happens to be the 100 year anniversary of the national park system, it may be an even bigger event.

I tried to create a simple, graphic painting of the Cabrillo Lighthouse, but added our local organisms into the painting as well. I call it The House on the Hill.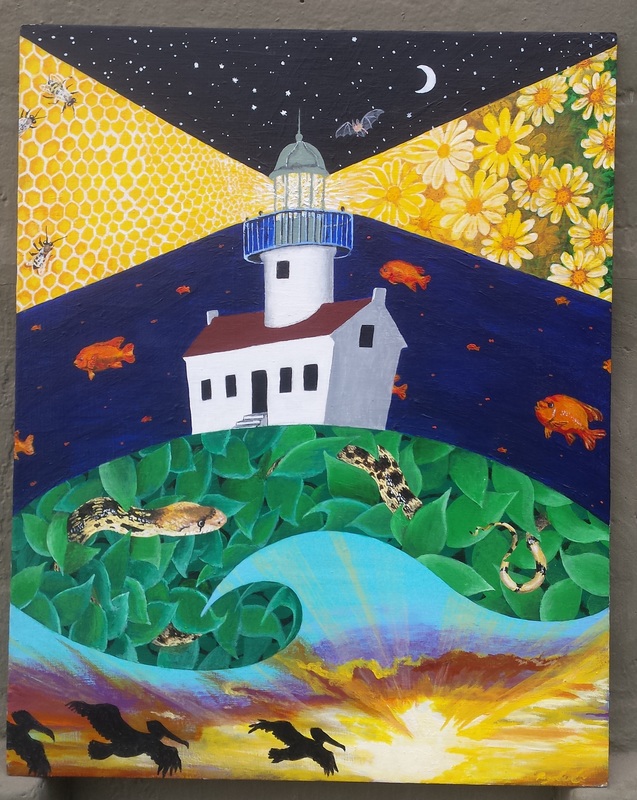 Cabrillo seems to like it, as they have asked permission to create posters and large banners using the image, in addition to T-shirts.
My main project here at Cabrillo is a new sort of clock that I've invented. It charts rhythms of migrations and waves of natural cycles over the course of an entire year. I will be working with an expert biologist and an engineer to design and construct this clock over the coming summer.
In conjunction with my clock project, over the course of this school year, I have had a special focus with all my art & science classes on the subject of migrations & natural cycles. We used our studies to design and produce an interactive installation that Cabrillo funded.
I worked with about 150 of my K-12 art & science students. We studied natural cycles & migrations that happen within San Diego county. I wrote & shared
this article
with most of the older classes, followed by rich discussion...then challenged them to choose a couple subjects to research on, and create a comparison & contrasting paper that would be simplified into an image with relative points, of course this was differentiated for age and understanding.
Then, I guided our middle school through a field trip to Cabrillo for live exploration & art!
We hit the tide pools at a minus tide to see lots of organisms & I offered an art project based on the cycle of kindness.
Students made "Thank you" cards one water color paper, but instead of normal water color paint,
​I researched & brought natural pigments such as turmeric, black berries, charcoal, & coffee.

The field trip infused our studies and we finished the interactive installation.
We added a special focus on Cabrillo and Global Warming
and have already exhibited it at the San Diego Festival of Science & Engineering.
Students ran the installation. I love it when the student becomes the teacher!
Hundreds of people interacted with our project.

This installation consists of 2 rooms: The Global Warming Room & The Migration Room.

The 1st room is a global warming workshop. Public is invited to come in and learn about the causes and effects of global warming, and may do any of several art projects. They may add to our paper mural on global warming with markers, or create a butterfly or whale to add into the migration room, or they may color a CO2 dinosaur to put into the model of earth's atmosphere found in the migration room.

​The Migration Room is fronted by a giant clock with 12 months instead of 12 hours. It shows the seasons, but has a crack in the clock that the public may enter. Once inside the painting, we find ourselves in a circular room. The walls are covered in studies on migrations and natural cycles. The floor shows the seasons, and the ceiling is crisscrossed with migrating whales & butterflies. In the center of the room is our model of earths atmosphere. It is a transparent tube over a fan. The fan blows air upwards. People add their CO2 dinosaurs into the model where they blow around like pop corn. The more you see, the hotter it is. A soundtrack plays on loop with contrasting sounds of man & nature. The soundtrack was custom created for us by David Samas and Ian Saxton (Brother's Quarrel) .
​
Soon we will also share our installation at the BioBlitz event with Cabrillo!