Orb Weaver Loom
The Orb Weaver is a huge garden spider that lives here in San Diego.

The sculpture was developed with input from multiple biologists.
Here is a sketch of our plan. Two of these would be fabricated from wrought iron and welded at the red dot. Mosaic will be added at the protrusions to attract insects. Then a tunnel would be added in the form of wire & rope for the spider to hide in. The completed structure will be stuck into the earth, and a vining plant should be planted next to it.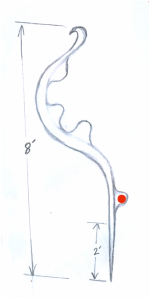 I made a small scale model.
Brian Beagle consulted on the engineering perspective and really got the ball rolling.
I thought that we'd do this in wrought iron, but he explained that people use mild steel these days.
He showed up several nights in a row after working construction all day.
This must have been a huge effort on his part.
He brought all sorts of tools to heat, shape, and bend mild steel in my backyard.

We worked with two bars of mild steel, getting them to a point where we finally needed a full workshop to finish.
At this point, I found Steve Fishback. Steve is an electrician by trade, but is secretly an expert welder who makes dune buggies for fun.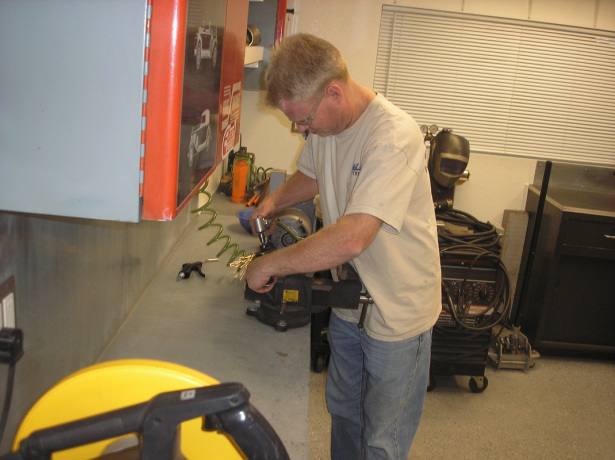 He taught me about MIG, & TIG welding. We finished up the metal work.
Fishback did most of the work and had all the skills. He definitely got me hooked on welding. What an amazing at medium!
Next, I sculpted clay pieces to fill out its shape, and attached them. I filled in any gaps with caulking.
I painted it with a high gloss black rust resistant spray paint.
Then, I added sets of intricately mosaiced circles to attract insects.
Next, I added a layer of jute, and then a second layer of hemp. This would be a cave for the spider to hide in.
Finally, I installed it in the center of a raised box in our JCS, San Diego Academy High School Veggie Garden. I can't wait to see what happens next!
I released a series of three spiders over a month and never saw any of them again. I began to suspect that the multitudes of children who use this space might be catching the spiders. I moved the sculpture into a protected space nearby.
Almost immediately, a spider took up residence.
I love the way the webs resemble the electrical lines and clouds.
My challenge now is to photograph webs. I never considered how difficult this would be. Out of a hundred pictures, I got two keepers, and they only show web at the bottom. This morning, it had an insect in the web, and couldn't get a keeper shot.