The Atomic Dance
I'm currently working with a team of scientists to study how the element chlorine cycles through the Arctic ecosystem. We think that fungus deep under the winter snow uses it to breath instead of oxygen. So, I have gotten to visit the Arctic once, and will go again next month. For this reason, I've shared the study with my students.
We've explored the following learning targets:
Everything is made of atoms.
There are about 100 kinds of atoms
All elements cycle
The Carbon cycle
The Nitrogen cycle
The Chlorine cycle
Next, we learned about interactive installation art. Student were then challenged to design an interactive installation that would teach these 6 learning targets to the public. Here are some of their design ideas.
They wanted the floor to be a periodic table of elements, with murals about the cycles on the walls. They felt like the atoms were metaphorically dancing, so we made our installation into a dance club, complete with a spinning disco ball that looked like an atomic symbol. We would create atomic dances, and songs about the cycling elements to project into the installation as a guide for the public to dance. Here's a rough sketch!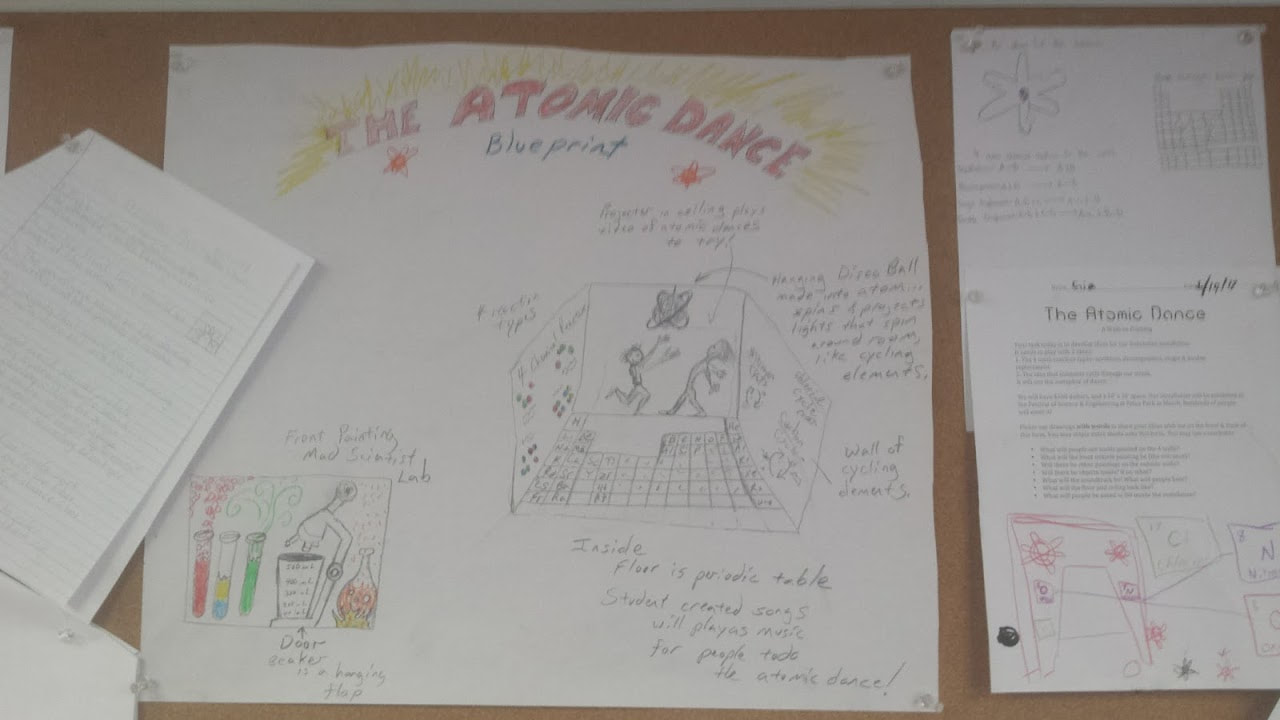 I sent the concept in to the Festival of Science & Engineering to propose it as an exhibit, and not only was it accepted...it won an award! We won the Bright Idea Award! So, we got the festival booths for free, a school bus for a future field trip, $500 funding and we'll be honored on stage at the festival. Super cool! They asked for a group photo of the winners in action, so I sent this in.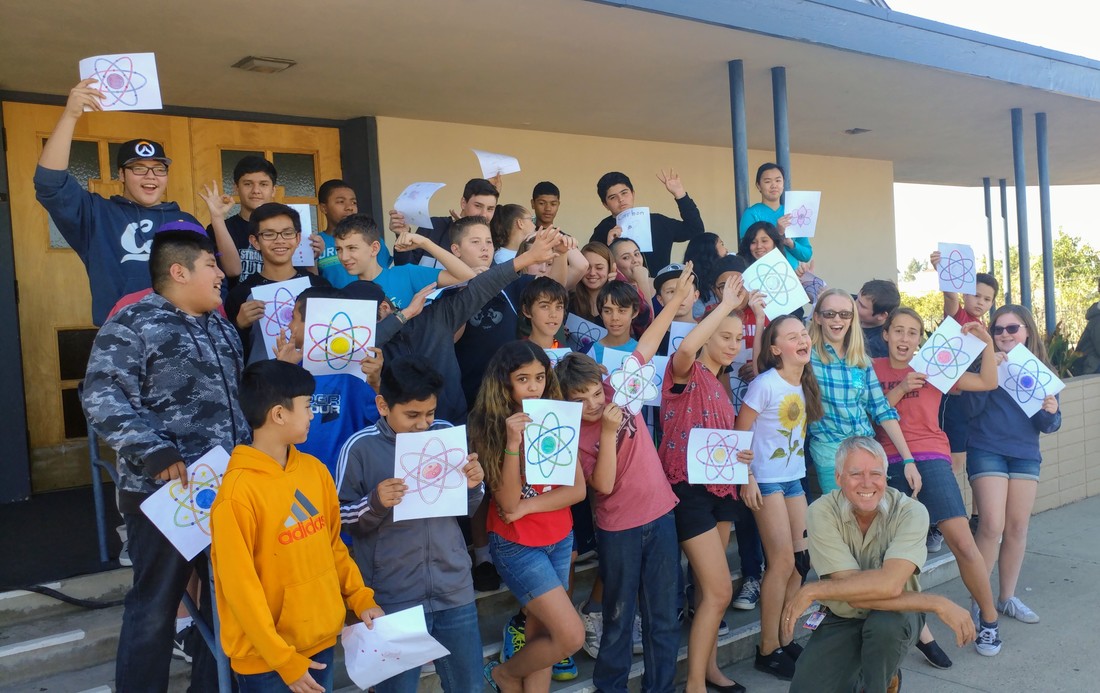 I taught a few ways to structure poetry and I've asked students to write poetry about the cycles, later they will turn them into songs.
Patricia Maldonado
is a well known expressive dancer and has generously volunteered to guide our students to create dances that express each of the atomic cycles. She will work with all my classes, from K-12th grade.
We started painting the murals. Students created illustrated notes for the learning targets, then painted these into the murals. All ages, elementary to high school worked on this part! It did rain, so we worked in the basement where there wasn't a huge amount of light, so some of the photos are a bit fuzzy.

I found a free online program that will allow students to create their own music. Many of them are falling in love with it as it is super fun. I may be accidentally creating some future rock stars. You can layer any number of rhythms using all sorts of musical instruments. I'm hearing every genre of music imaginable.
Next, I challenged them to sing their cycle poetry as a layer of their song. It was a huge success. They produced Well over 100 songs, which I laid as a soundtrack to their atomic dance video. This will be shot into our installation at the festival to show people how to do the atomic dance. Fantastic!
We polished off our final stages of mural painting, and were ready to install at the Festival!
Aaron Labovitz (a math teacher at our school) and I installed the Walk-in-Painting at Petco Park Friday. It is supposed to rain, so we rain proofed all our electrical gear. Thanks for the help Aaron!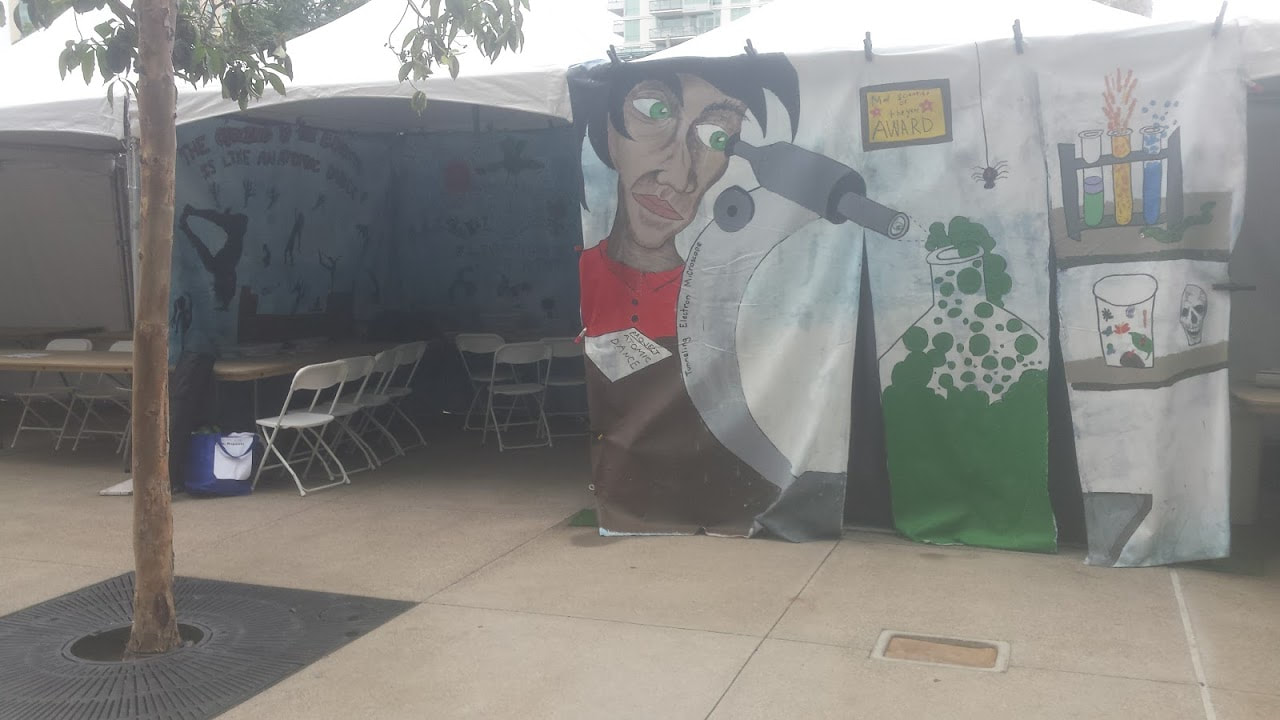 I stayed up late editing in songs turned in late, but then was not able to save the movie. I got up early to try again, and still couldn't. I headed to the festival deliriously sleepy and a bit distraught about the unsaved movie, also it had rained and more rain was predicted!
I arrived and fixed the things that the rain had disturbed, set-up all the amp, projector hanging from the ceiling by ropes and the atomic disco ball. I figured out a way to play the edited movie directly from my computer without saving it. YAY coffee. ..and then it started pouring rain. The show was about to open. So sad. It lasted 20 or 30 minutes, quit and the sun eventually came out. I never saw a rainbow that day, but I felt them.