To Change the Tide
2013
Project Description

Our school will experience a series of oceanography lessons, visiting scientist workshops, and fieldtrips. One activity will be a beach clean-up. We will keep a selection of the trash and use it to sculpt life sized ocean organisms, including a dolphin, and a seal lion. All of the trash animals will be suspended inside of a 10 x 10 foot canopy. This will be walled with murals that the students will paint on canvas that illustrate the topics of: solid trash, chemical trash, bio waste, over fishing, off shore drilling, top predators being killed off, ocean acidification, mercury poisoning of fish, and the great pacific garbage patch. The face of this installation will be blue cellophane panels. The floor will be recycled carpet that we will paint with ocean poetry and a central reef will host lobsters, crabs, sea urchins and more. This central reef will act to guide interacting audience to circulate from the entrance, around the reef and out the exit. The ceiling will be reflective cellophane in which people can see themselves symbolically as part of the situation. It will host an ocean soundtrack. It will be fully interactive and meant to be shown at a series of public venues.

This will be a collaborative project between all of Jason Rogalski's science infused with art classes at the JCS, San Diego Academy; which includes; 8 classes, 6th-11th grade. Also participating will be his a 1st-3rd grade & 4th-6th grade art classes from the JCS, San Diego Learning Center & a class in Rosarito, Mexico from a school in El Pescador.

These students have been prompted to design an interactive art installation based on two main concepts: their perspective of beauty in our ocean & 10 types of marine pollution.

The resulting installation will be fabricated by the students and exhibited at a series of community events where students will install and run the piece.

We are through the first stage of design and the current plan looks like this...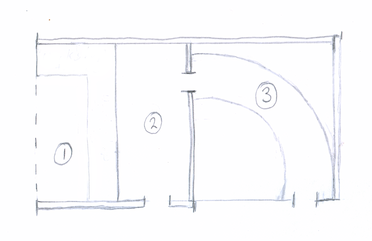 #1. Workshop Area

#2. Deep Sea Chamber

#3. The Marine Room


#1. Workshop Area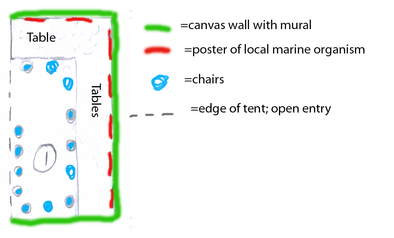 The workshop area will have 3 projects to choose from.

A. Fish coloring-Pick your favorite local fish to color and add to our overhead school inside the Marine room.

B. Seaweed poetry- Write a poem or draw a picture on a leaf of seaweed, then add it to our kelp forest.

C. Wish upon a Starfish Reef- A 10 question quiz will be your ticket to a free wish! The quiz answers are inside the installation. Write your wish on a star fish and add it to the reef.

An aquarium of dreams will allow audience to donate to our science infused with art program.

*See Murals section below for details of interior & exterior murals of the Workshop Area.

#2. Deep Sea Chamber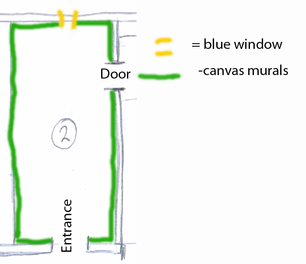 This first room will be dimly lit and host murals painted with bright neon paints on dark blue & black canvas that illustrate the amazing & strange deep sea ecosystems that occur around earth's hydrothermal vents as well as other bizarre deep sea organisms such as the anglerfish. The earth science of undersea volcanoes will also be illustrated here. Black lights will be overhead and the soundtrack will be of bubbles, whale songs, volcanic rumblings, and eerie water flows. The ceiling will be a black and blue batiked tapestry with a silhouette of a giant squid fighting a sperm whale. The floor will be the word basalt written numerous times with blue paint on black carpet.

*See Murals section below for details of interior & exterior murals within the Deep Sea Chamber.

#3. The Marine Room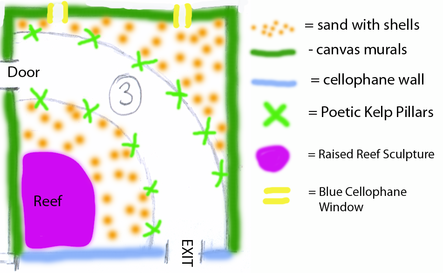 This room will be very bright and have a blue cast. One whole wall will be blue cellophane. A soundtrack will blare waves breaking, gulls, and dolphin whistle/clicks.The other 3 walls will be educational murals about San Diego's marine ecosystem and aspects of marine pollution. There will be a reef sculpted in the corner from paper mache' & found trash from our beach clean-ups. This will be mounted on a folding table with a long table cloth that students have batiked & fabric painted to look like a reef. The tablecloth will stretch diagonally to the ground where sand & sea shells will be spread out. This is "Wish on a Starfish Reef". Audience will toss their wish stars onto sands surrounding the reef.

A. path will curve through the room. It will be bordered with ceiling to floor kelp strands. These strands will be green rope that we'll attach kelp leaves onto. Some audience will make kelp leaves to attach in the workshop section. Overhead will be a solid sheet of reflective material. Two life sized silhouettes of a dolphin & a sea lion will be visible along the ceiling. Several strings will crisscross the ceiling as a matrix for audience to add their workshop fish onto.

On the sandy floor across from the reef will be a sting ray sculpture subtly buried in the sand with a panel behind it that explains how common they are in San Diego, its life cycle, its poison, and the stingray shuffle. Also, against the adjacent wall will be a small free standing rack holding several oversized test tubes. These will be labeled and contain 5 samples of different marine pollutions.

*See
Murals section below for details of interior & exterior murals within the Marine Room.

Murals
Our murals will be painted on large canvases that will be attached to our tents.
Each has a separate interior & exterior image.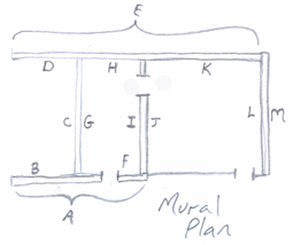 A. The Face Painting-This will be a 8 foot high, by 10 foot wide reproduction of "The Great Wave" which is
an classic Japanese woodblock print. A hole will be cut as an entrance for the audience.

B. Seaweed Poetry Instructions-This mural will look like a kelp forest. Text will explain a couple facts about San
Diego's kelp forest. It will host explicit instructions for the kelp poetry project.

C. Wish on a Starfish instructions- This mural will have illustrations of the different star found in San Diego. It will
also give instructions for the Starfish Challenge. The Starfish Challenge will be a quiz on the back of a paper starfish. The answers are to be
found within the installation. Audience will do this, then return to see if they got the right answers. A key is behind a panel that can be lifted on this mural. After taking the quiz, people write a wish on their Starfish and add it to the reef inside. Later, we can collect their quizzes to translate into data.

D. Local Marine Organisms-This mural will illustrate and label several local species of fish that can be colored, cut out and added to the overhead matrix inside the installation. Fish will include: leopard shark, garibaldi, kelp bass, mackerel, & the triggerfish. Some text will offer information about each species.

E. The Submarine-This mural will be a 20 foot long painting of a submarine, reminiscent of "20,000 Leagues Under the Sea". It will have a series of small round windows with blue cellophane as glass. Audience will be able to look into the installation from the exterior. Various sea creatures will be painted within this mural.

F. Miscellaneous Deep Sea Organisms-This mural will show other bizarre deep sea organisms found in areas other than the mid-ocean ridge.

G. Hydrothermal Vent Ecosystem- This mural will be paintings of the amazing & strange organisms that use the process of chemosynthesis 5 kilometers deep into our dark ocean.

H. Undersea Volcano- This mural will present the perspective of Earth Science as tectonic plates separate and causes the Mid-Ocean Ridge which is riddled with volcanic vents.

I. Deep Sea Understanding-This mural will illustrate and explain photic & aphotic zones, effects of extreme pressure, and show some of our deep sea submarines.

J. Food Chain-This mural will be of the San Diego Food Web and include a great white shark who's mouth will be the door.

K. San Diego Ecosystem-This mural will illustrate 3 main ecosystems of San Diego's ocean: kelp forest, sandy shallows and rocky reef. Each will host a multitude of labeled organisms and some breaking waves.

L. Types of Marine Pollution- This mural will be a visual study of ten of the greatest threats to our ocean: solid trash, chemical trash, bio waste, over fishing, off shore drilling, top predators being killed off, ocean acidification, mercury poisoning of fish, and the great pacific garbage patch.

M. The Ocean in Culture-This mural will be an illustrated exploration of the ocean in culture. It will include an area of mythology, an area of pop-culture and an area of literature.

Learning Objectives
Students will learn specific knowledge about our local marine ecosystem.

Students will identify specific personal reasons to value our ocean.

In order to identify their reasons, they'll be educated about specific local organisms (Tide pool walk), general organisms (Sea World Trip), local beach community history & architecture (O.B. Field Trip), & Ocean Art (activities).

Students will learn about solid trash, chemical trash, bio waste, over fishing, off shore drilling, top predators being killed off, ocean acidification, mercury poisoning of fish, and the great pacific garbage patch.

This will be achieved through a series of in-class lessons, a beach clean-up field trip, a floating-lab field trip, and students using this information to design, fabricate, and share these educational points through an interactive installation.

General audience will learn at least 3 specific local marine organisms and 2 marine threats.

This will happen as they fill out their starfish quiz, which they may trade in for a wish.
_______________________________________________________________________________________________________________________
_______________________________________________________________________________________________________________________

We received the Teacher's Fund Grant through The San Diego Foundation.

Students studied oceanography & designed the installation.
Next, we put many of the ideas together into one giant project. We continued learning about oceanography and began creating reflective art as part of the installation.
Then, we won The Bright Idea Society Award!!!
This prestigious award came with funds, a school bus to bring us to The San Diego Festival of Science & Engineering, and we'd be presenting our project at a series of venues that included the City Council. Validated & empowered, we continued working.
Fieldtrip to Ocean Beach

Our day in O.B. was absolutely fantastic. Mr. Satterfield set-up a carpool. We all met up on the O.B. Pier. A large fraction of the school showed up. We did a beach clean-up between the pier and Dog's Beach. We'd use some of this trash later in our art installation. It was a sunny day with nice surf rolling through. Mrs. Elser, the English teacher, walked everyone to the end of the pier and led an art project on which students wrote ocean related memories, poetry, or stories on paper kelp. Next, we all met on the grass, where many nibbled their lunch as Pat James, the President O.B. Historical Society, honored us with a lesson about this unique community's evolution. He was a dynamic speaker and brought a set of large photos that he leaned against the boardwalk wall. The general public listened to his lecture with us. Finally, we all loaded up into our various cars and caravanned a half mile south to the parking lot at the end of Sunset Cliffs. We drove down a little dirt road and met up with Sarah Wheeler, an expert in oceanography from The Coastal and Marine Institute Laboratory (CMIL). We timed our guided tide pool walk to coincide with a minus tide that would expose these pristine reefs and the amazing organisms that populate them. We hiked through a gorgeous winding canyon trail that led us to a final cliff, where we climbed down one by one to the beach. Our mob headed south on a beach made of huge grained beige sand, walled in by a cliff riddled with small caves. We found a bay with a series of exposed reefs where many students congregated into a huge cave that the waves had carved out. We explored the reef's ledges and gently collected multiple organisms in a special bucket that Mrs. Wheeler brought. She also brought several other tools like a sieve to collect plankton. After an adventurous afternoon of chasing octopi, and other creatures that we had no names for, Sarah called us all to a natural class arena on the beach, where she went through our collection bucket, sharing fun facts about each organism that we'd found. She followed this with a theatrical play about why the tides occur in which students danced around like the sun, moon, & earth. Finally, we released each animal back onto the reef and headed home. ..definitely, a great fieldtrip!
Racing against time, we set-up our canvases so that we could work on both sides simultaneously.

Our last two days before our first exhibition were very busy as we finished all the different projects.

We were all very proud of our work.
Finally, we were ready for Super STEM Saturday in San Marcos.
The show went great!
Hundreds of people came through our installation to learn about oceanography.
Next week would be the San Diego Festival of Science & Engineering with three times as many people.
Tuesday, we presented our project to the San Diego City Council. Nathan gave a great speech!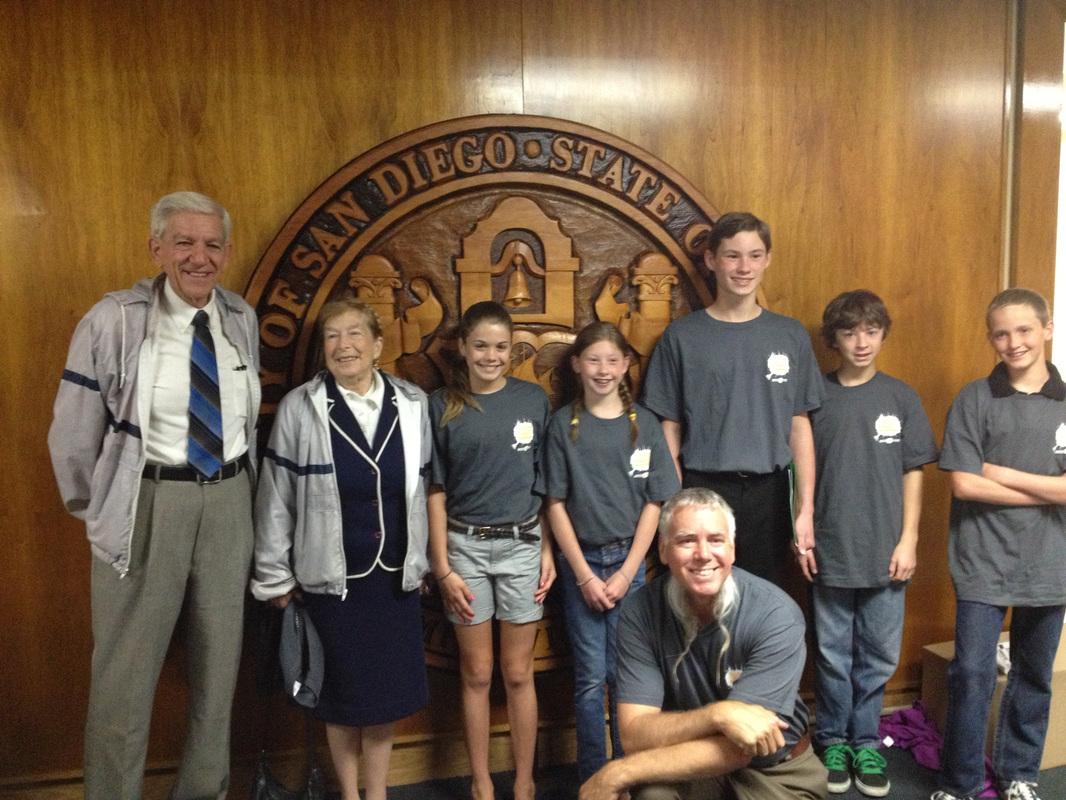 San Diego Festival of Science & Engineering: EXPO Day
This was March 23rd, my 43rd birthday. What a great way to celebrate.Ryan Satterfield & I set-up the Friday evening ahead. Multitudes of students arrived EXPO Day to help run our project. Once the event opened, the people came in an unslowing flow. The day is a blur of activity in my mind. A thousand people came through. At another point, a very quiet student volunteered to attend and speak at a special luncheon with me, his name is
Jacob. We went to this lunch, power walking through swarms of people. He practiced his few sentences about "what he learned", as we hurried to the site. We grabbed some fancy food and sat on the edge of a hundred or so people. He practiced again and asked me who these people were. I told him that these were some of the richest and most powerful people in San Diego. He stared at me. I told him that he shouldn't be nervous because they were wonderful people that were creating this amazing event and that they wanted to hear what we had to say. They had invited us. I told Jacob this because I believe that he quietly enjoys challenges. The announcer was the man in charge of the whole festival. We were the first that he invited to speak. I was a little nervous, but said my piece about our school and how great the festival and the Bright Idea Award was for our school. Jacob was by my side at the microphone. The speaker asked him what he learned. He said his 2nd sentence first, realized it, and froze, caught himself and went on nervously. He finished okay, but it was obvious that he was very nervous. The speaker was excellent and put his arm on his shoulder. He reassured him and asked him if this was his first public speech. Jacob said, "Yes, I think so." The announcer said, "Well, you can tell your kids that your first speck was to the chancellor of UCSD", who then waved. "The mayor", who also waved, he named a couple more heavies that I can't remember as by own mind was reeling. Jacob just laughed. But then, he did something that I never expected… he asked Jacob a surprise question. "Can you tell us something that you were surprised to learn from this project?" I was so worried. Jacob was already nervous. This could be devastating for him. He looked down and blinked, then said, "Well, I learned that the ocean isn't just science, or math, or art. It's all the subjects mixed up, and we need to know this as humans so that we can take care of the Earth's organisms." There was a moment of silence, then a huge wave of applause. I couple people cried lightly. I know this because I was one of them and I spoke with others. It was a good moment. We sat and heard the other speakers. Several mentioned Jacob as an example of their purpose in this event. Then we hurried back to our work. Multitudes of people came through our installation like a river. Later, a small group led by Nathan spoke in a small amphitheater. Jacob spoke far more confidently. What an amazing day.
Mission Federal ArtWalk 2013, in Little Italy
This two day art festival was well organized, upbeat and brought hundreds of people through our interactive installation, most were under the age
of 15. We were stationed in KidsWalk, located in Amici Park of Little Italy. Special thanks to SDVAN for facilitating our spaces. Every teacher in our little school, several students, and family members came to transport, set-up, run, break down, and transport away this complex project, especially, Debbie Elser, our amazing English teacher.

Mrs. Elser & Mr. Satterfield took their Friday off to load & transport the work to Amici Park. Together, we installed the majority of it. Normally, it takes about 4 hours to set-up, but we did it in just two hours.. The next morning (Saturday), Mrs. Elser and I put on the finishing touches. Students Anya, Marc and their families arrived to help us run it. Hundreds of children came through, and many added art.
Sunday; again, hundreds more kids came through..sooo many fantastic interactions. Kids love to learn. Mrs. Koch came to help all day long, as well
as Alison and her family, who helped all morning. The children came in waves. There'd only be a few, then they'd be overflowing all three rooms. At one point, I heard all the kids inside getting crazy & yelling about a bird. I stepped into the exit and a baby black bird flew directly to my chest where I shielded it with both hands. I brought it out to a bushy area & released it: a perfect metaphor for the day.