Volcano a-go-go
Volcano-a-go-go is a walk in painting. I am guiding my science & art classes at JCS, San Diego Academy to conceptualize, design & build it. They chose to base it on a volcano called Arenal in Costa Rica. They decided to have the entrance be a slide so people can slide into the volcano that would be filled with magma colored balloons. The interior would be murals that taught about their studies in Earth Science. This would connect to a second chamber that would be a jungle room, showing their studies in Life Science/Biology. The exterior would be an illustration of primary & secondary succession.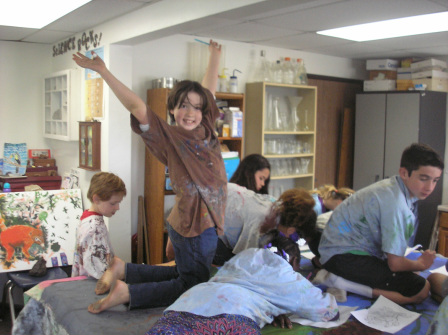 First, each student designed a series of mural proposals. We posted these on our ideas board and put them together into a set of finished mural designs.

Next we primed both sides of seven canvases.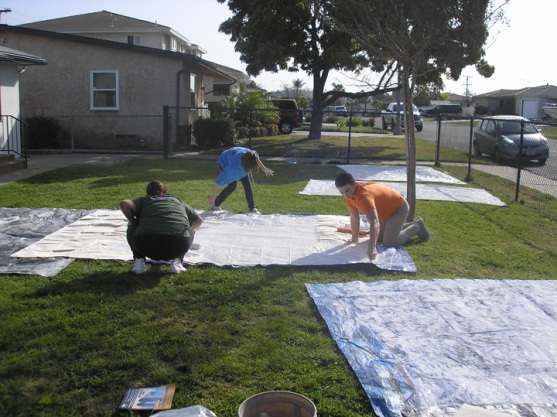 Then, it was time to lay out our designs on the canvas & start painting.

Earth Science did a background of nonobjective painting that used warm colors to illustrate magma.
Earth Science then added foreground illustrations of their studies in plate tectonics, geology and more!
Life Science painted the rainforest autotrophs that surround Arenal as their background.
Next, Life Science researched & illustrated hetrotrophs & decomposers that live in the jungle. They labeled each with its common name & species name.
Physical Science worked on both subjects.
The biology class continued their study of taxonomy by researching & painting in organisms.
Art Appreciation exercised their skills in design.
The JCS, Learning Center K-3rd art classe had a great time painting the idea of primary & secondary succession.
Next, the 4th, 5th & 6th graders from the JCS, Learning Center added autotrophs, hetrotrophs & decomposers into the mural.


We put up half the installation to get a feel for how it was working.


And we took a few last steps…these included adding fresh water organisms into the Costa Rican River.


Then we gave it a dress rehearsal!


QR Codes

Mr. Satterfield taught students how to create QR Codes. These were attached inside the installation to allow people to access educational websites using the most current technology.

---
Synergy Art Foundation
March 23rd Synergy Art Foundation contacted us to announce that they would grant us the funds that we needed for materials. Thank you Synergy!!!

2012 San Diego Science Festival
March 24th, we exhibited our installation at the San Diego Science Festival in Petco Park. It was a full & fantastic day. BioEASI generously facilitated a large space for us at the festival, which we shared with BioEASI & FabLab. Students ran every part of our installation and around a thousand people entered the volcano learning science through art. Below are some images from the festival.

The exterior sides illustrate primary & secondary succession. The front is a framed painting of the volcano: Arenal.
A hole is cut into the painting as an entrance. This leads to a slide. A series of students sat at the entrance as greeters.
People enter the volcano through a vent.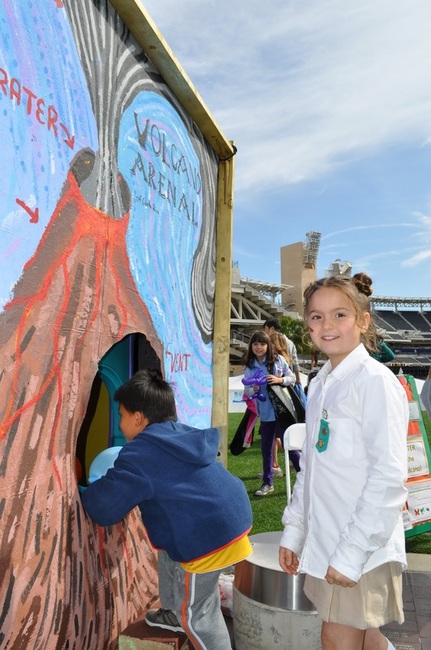 The volcano room hosts a fog machine, a red light, a strobe light & a volcano sound track. People slide into a room full of red, orange & yellow balloons (symbolic magma) to find the walls made of educational murals. A student stays inside as helper.
The Jungle Room
Entering the jungle room, people heard a jungle soundtrack. The floor was a carpet painted with a meandering river filled with fish, frogs, crocodiles and turtles. The walls hosted illustrations of ecological concepts. Crisscrossing vines were filled with art leaves made by those in attendance that day. The students who worked in this room also had fun working an insect on a string that they'd lower to scare people. A large back door allowed as an exit or a secret entrance for adults.
The Art Station
Outside the installation, we had an art station ran by a series of students. They would invite people to color a leaf, cut it out and tape it into the rainforest inside the jungle room. In the jungle room, we had dyed rope green and hung it like vines to add leaves onto. Over the course of the day, the bare vines filled to capacity.
International Collaboration
JCS & Ladrillera Pescador

We were unable to plan our collaboration with a school in Baja and left with the last choice of loading every thing up and approaching a school unannounced. So began our adventure...

On 4/27/12, the jungle portion of Volcano a go-go was shipped to a rural elementary school south of Rosarito, Mexico (via my rusty old Toyota). This was in conjunction with the Mexican holiday called Día de los Niños. This is a wonderful holiday that for some reason, we don't celebrate in the U.S. It is a day for the kids. I brought my son, who'd just turned 7 as this seemed like a perfect opportunity to expose him to Mexican culture.
We started with Francisco Cabello & Lucy de Hoyos.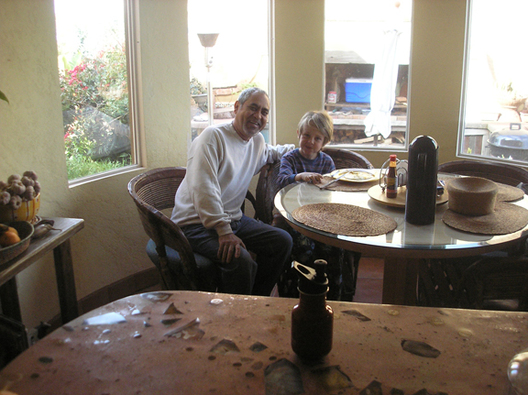 ---
A visit to JOSE MA PINO SUAREZ Primaria
The next morning, I decided to try an elementary school that I'd worked with in 2002-2004. It is officially called JOSE MA PINO SUAREZ, but most people call it Pescador. It is found on the extreme outskirts of Rosarito in a tiny community called Ladrillera Pescador. Ladrillera means female brick maker. Pescador means fisherman. Behind the community is an amazing area where people make bricks from the existing soil in homemade kilns that look like small azteca pyramids. They are on a hillside that overlooks the ocean.

As we approached the school, music played and kids danced and played games celebrating Día de los Niños. To my surprise, there was a new director, but other teachers remembered me and he gave us an area to do the project. My son immediately began interacting with the kids, even though he speaks almost no Spanish.

They gave us their auditorium/computer lab. I had painted a mural on its back wall years prior, and it was still there. I set up the jungle portion of our installation with the animal sound track blaring. I had intended to do a focused painting project with one class of 6th graders, but as the kids began swarming, I saw that I needed to change my plan. I was going to be dealing with 50-70 kids ranging in age from 5-12 years old. I had prepared a leaf making project as a side option, so I went with that full force and hid the paints. The students came in waves. I think they sent them by class. Several older students took on roles as helpers. I only had time to take a few pictures. It was quit fantastic.
I ran into many old friends from when I worked there before and traded contact information with the new director so that we may continue collaboration with this gem of a school. My son asked if we could come back again next week.
Exhibitions
Thank you to our Sponsors!!!